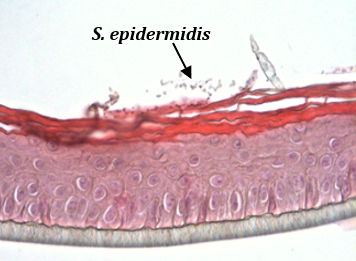 The cutaneous microbial flora and its diversity, also called microbiota, is beneficial and even essential to maintaining a good skin health. On its MicroBIOS Platform, StratiCELL is studying commensal and opportunistic strains of the skin including Staphylococcus aureus, Staphylococcus epidermidis, Cutibacterium acnes, or Malassezia furfur. StratiCELL is able to colonize its reconstructed human epidermis with these microbial strains, and to objectivate the influence of dermo-cosmetic actives by a dual study approach :
first by monitoring the bacterial growth by colony counting
and second by observing the epidermal response to infection.